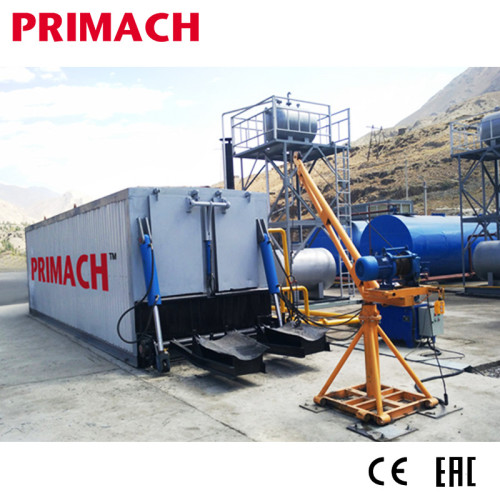 Decanter Bitumen Melting System
Item specifics
Origin of Place

China
Warranty

1 year
Brand

PRIMACH
Name

Decanter Bitumen Melting System
Description
Decanter Barreled Asphalt Melter
De-canter Bitumen Melting System is specially designed to decant and heat up drummed asphalt. It is mainly composed of main body, hot oil coil, asphalt pump assembly and filtering system. This type of device not only greatly save energy sources and men power but also perfectly protect environment. It is the best choice for road construction. With the pursuit of product performance, PRIMACH have obtained a number of invention patents and new utility patent, and we have won unanimous praise in the industry.
Product features
1. Lifting
Lift the barrel by hoist, move the barrel transversely and put it on the turnover device with opening up.
2. Turnover device
In the previous time, after opening the barrel, we need to turn over the barrel by manual and bitumen dripping results in waste and pollution when move the barrel with opening down to the sling way.
But after adopting bitumen barrel turnover technology, the machine drastically reduces the labor intensity and avoids dripping during transferring.
3. Collecting disk
After the barrel turned over by the turnover device, a few of liquid bitumen dripping from the barrel will be collected by the bottom disk and spilled into the melting tank automatically through a small hole.
4. Bitumen barrel plate
The hydraulic pusher does NOT push the barrel directly, but push the bitumen barrel plate with square shape, avoiding big resistance, unsatisfactory progress and deformation of barrel and rail.
5. Protecting environment
Closed-construction and minimum pollution. It can thoroughly melt the bag asphalt and ensure the minimum waste of asphalt. This closed structure is environmentally friendly.
6. High reliability
Using turnover device to pull barrels, rather than manual work, without leakage.
Using reinforced & sliding tracks to avoid distortion.
Using spring doors to reduce heat loss.
Hot oil heater equipped with burner can be separated with or combined into decanter.
Product parameters
Item
Unit
Parameter
Remarks
Sling way
Line
2
Barrel quantity
Barrel
28
Φ571mm × H 980mm
Heating mode
Thermal oil indirect heating

Output
t/h
6-10
Maximum bitumen temperature
℃
120-160

Melting tank volume
m³
≥15
Dimension
m
12×2.2×2.55
Bitumen pump capacity
m³/h
25.7
Total installed power
kw
≈17
Power supply requirements
380 V 50Hz stable AC power supply
Cable copper≥16mm²
Thermal oil operation temperature
℃
200-240

Thermal oil pump flow
m³/h
12.5
Thermal oil heat exchange surface
㎡
71.6
Thermal oil volume
m³
1.215(≈1045kg)

7 barrel (180kg/ barrel)
Total heat exchange surface
㎡
101.73
Bitumen temperature control mode
Temperature controller auto-control

Thermal oil temperature control mode

Temperature controller auto-control
Environmental index
Superior to environmental protection requirement
Product Display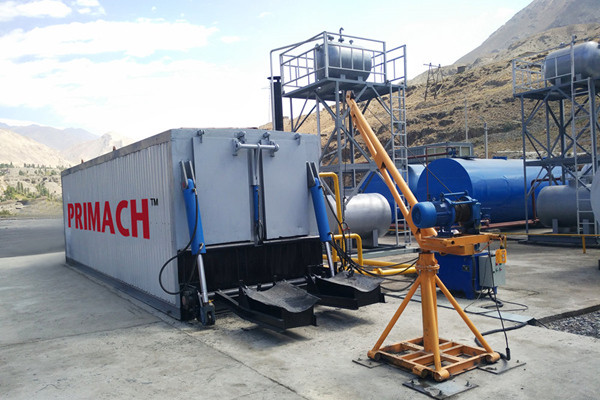 Application