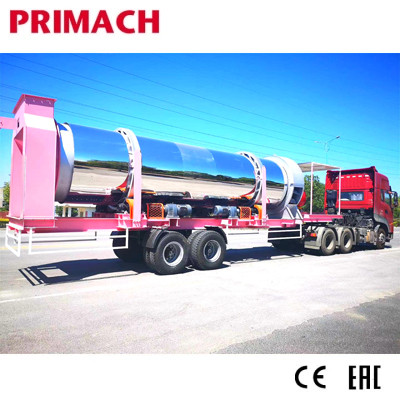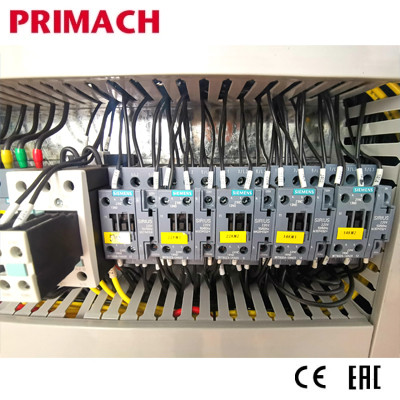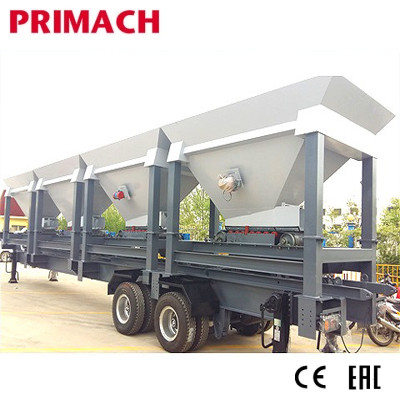 PM60MS-100MS MOVSMA Mobile Smart Asphalt Mixing Plant
Item specifics
Capacity

60-100T/H
Fuel

Oil / Natural Gas / Coal
After service

7x24 special service team
Emission

Ringelmann Blackness Class Ⅰ
Place of production

Langfang city, Hebei, China
Brand

PRIMACH
control system

PLC
Description
Product Introduction
PM60MS-100MS MOVSMA Mobile Smart series asphalt mixing plant is designed on the basis of CLASSIC series asphalt mixing plant, not only retains the advantages of CLASSIC series asphalt mixing plant, such as batch mix with high quality mixture, but also have moving fast and easy installation features. MOVSMA series asphalt mixing plant is in modular and compact structure design. All of the major components, such as cold aggregate feeding system, drying system, mixing tower, dust collector system, bitumen supply system etc., can be hauled by trailer without disassembly, transitions quickly and easily. MOVSMA Mobile Smart series asphalt mixing plant can greatly save the time and cost of installation. PRIMACH, as a leading manufacturer of asphalt mixing plant always dedicate to provide the optimum equipment to customer.
MODEL-CLASSIC

PM60MS-100MS

Rated Production Capacity

60-100 t/h

Cold Feeder Bin

6.5m³x3 6.5m³ x 4 6.5m³ x 4

Dry Drum Size

Ø 1.2m x 5.2 m Ø

1.5m x 6.5 m Ø

1.8m x 8 m

Double Chamber+Watering

Primary Volute Casing Collector+Six Chamber Dust Filter

Filter Feed

Mixer Capacity

Control System

PLC

Mobile Unit

Note:

● Some specifications / options might not be available in some countries due to local regulations.

● Specifications / options are constantly updated and subject to change.
Product Features
The batch type asphalt mixing plant can produce better quality mixture compare to continuous drum mix plant.
1. Mobility
Mobility has to be the biggest advantage and feature. Why somebody prefer a mobile version of the asphalt plant? Initially, this plant only need to take up 7-14 days for installation. This means that it is very fast for shifting sites. It is also easy to disassemble and reassemble in a short time.
2. Wide capacity range
We provide wide range to satisfied various customer's demand. The specifications of PM60MS-100MS MOVSMA Mobile Smart are from 60 to 100 t/h.
3. Mobile Unit
The whole plant can be delivered with only 6 trailers.
4. No foundation required
Usually, when a stationary batch plant is set up it requires a lot of civil work to be done for installation. But there is less foundation requirement for all mobile units. This is one of the points that make MOVSMA series asphalt batch plant truly mobile.
5. Convenient electric control
PM60MS-100MS MOVSMA Mobile asphalt mixing plant for sale adopts PLC control system. The whole operation can be controlled both by automatically and manually.