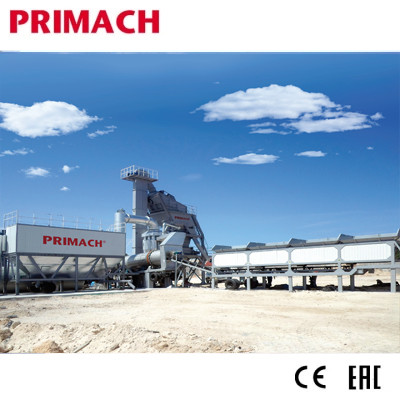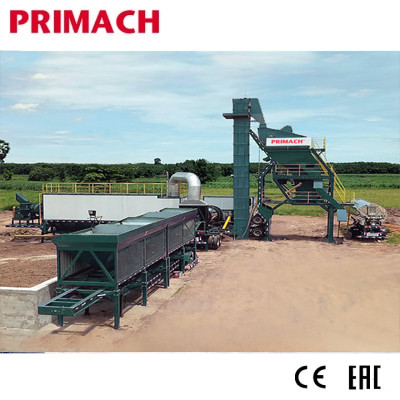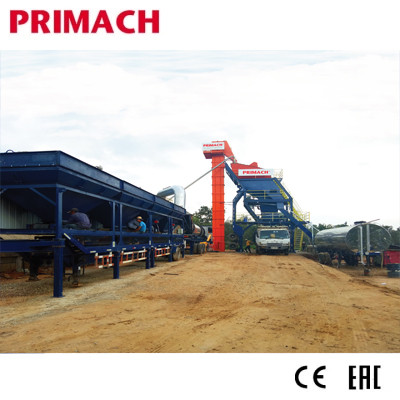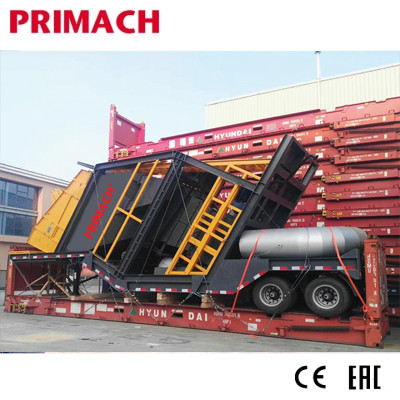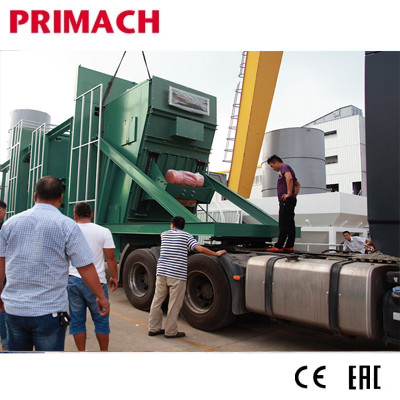 PM60M-160M MOV Mobile Asphalt Batch Mixing Plant
Item specifics
Rated capacity

60-160t/h
Feature

Mobile with axle and wheels
Place of origin

China
After-sales

On-site
Application

Road construction
Color

According to customer's requirement
Brand

PRIMACH
Design

Compact
Description
Product Introduction
PM60-160M MOV series asphalt mixing plant is developed, designed, manufactured and put on sale by PRIMACH. It has all the advantages of Classic stationary asphalt mixing plant but with mobile unit. It allows much easier transportation and provide fast relocation solution to customer. The MMI of control system is easy to study and operate. It is also known for its reliability.
PRIMACH asphalt mixing plants are designed for mobility with the lowest possible cost on sea freight and inland transportation. Each asphalt mixing plant could be disassembled, stored and protected in standard sized containers. No matter where the jobsite is, PRIMACH will deliver the asphalt mixing plant on schedule at the lowest possible cost, safely.
MODEL-Mobile

PM60M-160M

Rated Production Capacity

60-160t/h

Cold Feeder Bin

3x6.5 m³ 3x6.5 m³ 3x6.5 m³ 4 or 5 x8 m³ 4x8 m³ +6.5 m³

Dryer Drum Size

Ø

1.2 m x 5.2 m

Ø

1.5 m x 6.5 m

Ø

1.8 m x 8 m

Ø

1.98 m x 8 m

Ø

2.2 m x 9 m

Primary gravity+Bag filter

Filter Area

Screening

4 Decks

Trailer Quantity(Mix Tower)

≤70 Km/h

700kg 1100kg 1300kg 1500kg 2000kg

Control System

Note:

● Some specifications / options might not be available in some countries due to local regulations.

● Specifications / options are constantly updated and subject to change.
Product Features
The batch type asphalt mixing plant can produce better quality mixture compare to continuous drum mix plant.
1. Mobility for fast relocation
Thanks to the mobile unit, the asphalt mixing plant MOV can be extremely fast relocation. Meanwhile, since the modular design, the plant is easy to assembly at site, Even the plant can restart to mixture within 7 days from erection in the ideal condition.
2. Wide capacity range
We provide full range to satisfied various mobile demands. The specifications of PM60-160 MOV are from 60 to 160t/h.
3. Simple structure with modular design
The mobile asphalt mixing plant has simple structure with modular design, which is easy for users to have a good knowledge of the equipment and operate it.
4. Selected extreme quality components
The all main components adopt anti-weary and heat-resistant materials, which can improve the material performance and service life. Furthermore, PRIMACH select the well-known global brands to ensure the robust quality of asphalt plant.
5. MMI of control system
The MMI of control system is easy to study and operate. It is also known for its reliability. With the fully automation system, the output efficiency is highly increased. This equipment is for quick assembly and low maintenance cost. It's the best choice for customers.