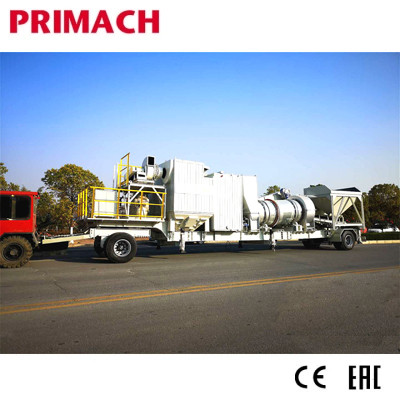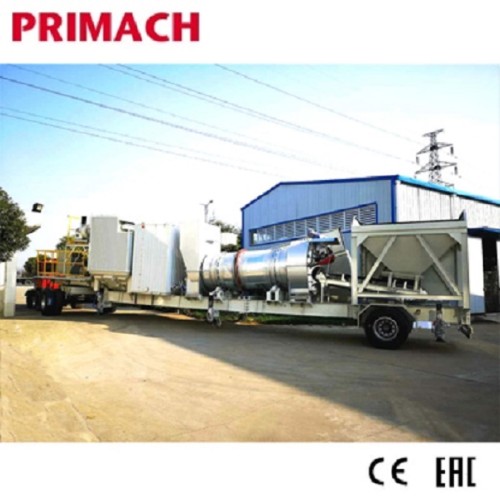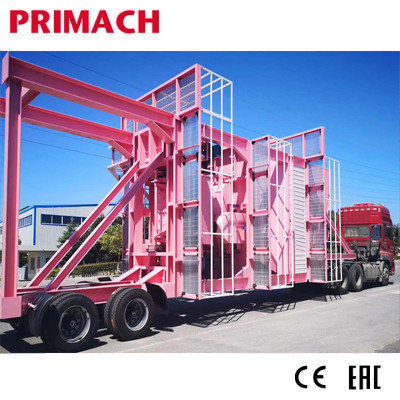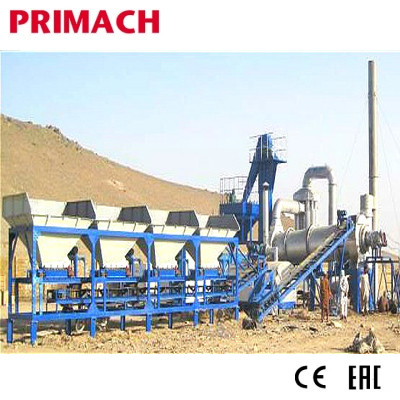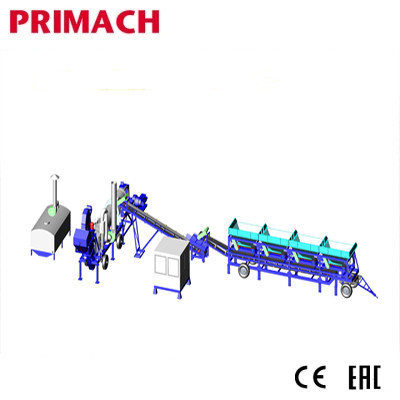 PM60CM-80CM CONTIMOV Mobile Drum Mix Asphalt Plant
Item specifics
Rated capacity

60-80t/h
Feature

Compact
Origin of Place

China
After-sales

On-site
Brand

PRIMACH
Control system

PLC
Burner

Diesel
Type

Mobile drum mix
Description
Product Introduction
PM60CM-80CM CONTIMOV Mobile series is the Mobile version of the drum mix asphalt mixing plant. The continuous drum mix process ensures the uninterrupt produce to satisfy the demands from road construction site and meet the paver's capacity. With the mobile unit the plant can be shift among the different site very convenient.
CONTIMOV series asphalt mixing plant is the new developed product on the basic of intensive studying the international advanced technology, it has the following features:
MODEL-STATIONARY

PM60CM-80CM

Type

Mobile Drum Mix

Rated Production Capacity

60-80t/h

Cold Feeder Bin

3 x 6.5 m³

Dryer Drum Size

Ø

1.2 m x 6.5 m

Ø

1.5 m x 8 m

Primary Six Chambers Cyclone Filter House

Primary Volute Casing Collector+Six Chambers Dust Filter

Burner

Diesel

4.5 m³

Control System

Trailer Quantity

2 (Cold Feeder and Drying System)

Note:

● Some specifications / options might not be available in some countries due to local regulations.

● Specifications / options are constantly updated and subject to change.
Product Features
Compared with a batch plant, a continuous asphalt plant is simple in structure because it has no mixing tower and elevating system, therefore, it required less land, less maintenance cost.
1. Reliable control system
The control system is drived by PLC module to ensure the fast and accurate operation. With the fully automation system, the output efficiency is highly increased. This equipment is for quick assembly and low maintenance cost.
2. Capacity range
We provide appropriate range to satisfied various mobile demands. The specifications of PM60CM-80CM CONTIMOV are from 60 to 80t/h.
3. Easy to move
Equipment structure is made for easy to move, all of the function module can be loaded to a standard trailer.
4. Cost effective energy solutions
PRIMACH provide multiple option burners. Customer can choose Diesel, heavy oil, gas, coal powder as the burning material. These burners take advantages of the principle of low emissions for environmental protection and calorific value as the core. These burners with excellent and stable quality are highly praised by customers around the world and therefore they can be used as the ideal accessory products for asphalt batching plant.
5. Compact structure
Truly compact design concept ensure every module can be packed in a standard container. The cost of transportation and time for installment are saved obviously.