DGLEAP icloud remote control system
Share
Issue Time

2020/08/12
Summary
The epidemic prevention and control blocked the pace of our construction, while possessing an asphalt plant with a "smart brain" allows you to understand the overall data of the device at home. Making good use of D&G latest DGLeap system, let data transmission be accurate, let device management be easy.
During the epidemic period, we cannot make a long trip,but DGLeap iCloud Remote Service System works without delay.
The prevention and control of COVID-19 hindered our pace of construction. Despite of this, an asphalt plant with a "smart brain" allows you to understand the overall data of the equipment at home. D&G's latest DGLeap icloud system allows accurate data transmission and easy equipment management.
Here are three magic weapons of DGLeap iCloud Remote Service as below:
DGLeap
Remote maintenance system
In terms of ability
It can realize remote diagnosis, remote fault handling, and remote network management of electronic control system.
In terms of method
1. D&G Machinery can provide professional electric control system adjustment and configuration support according to the customer's remote assistance requirements, namely "one observe, two diagnosis and three maintain";
2. Diagnose the current operation of customer plant through a remote maintenance platform, assist customers in analyzing faults and handling.
3. Network equipment remote maintenance management and upgrading should be carried out to assure smooth network.

In terms of ability
Remote data system:Provide customers with simple and useful data statistics services
In terms of method
1. Remote data service is simple but very practical: it can help customers to understand the details and status of plant operation in real time, realize the storage and backup of production data in the cloud, implement the real-time statistics of production reports on the web page of the computer, and also query according to the year, month, day, hour and minute.
2. It can send the production data to the designated mailbox of the customer, with good confidentiality and data integrity.
3.It is suitable for customers to understand the operation status of plant and realize data storage and backup, but it is limited by professional talents and cost, therefore it does not have the situation to deploy more complex systems.
4.It can be reviewed by PC and mobile APP.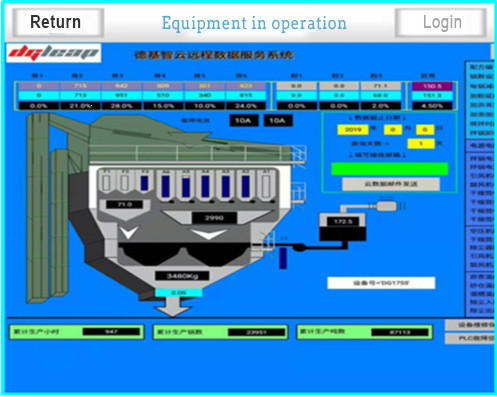 It can be connected with D&G asphalt plant seamlessly, manage the whole process of production and operation of asphalt plant through computer and mobile APP, improve management efficiency, reduce communication error, record production and operation process, assist customers to sort out the whole process of operation chain of asphalt plant, clarify personnel division, define the responsibility and authority of each position through system.
Core function: comprehensively master the production details of asphalt plant.
In terms of method
Be able to help customers solve the following problems:
1. Accurate control of the feeding and discharging data in the production process of the asphalt plant: reduce man-made factors, incomplete records and inaccurate statistics;
2. Production management: the plant is started on time, the formula is issued carefully and strictly, the production record is clear and specific, and the production scheduling is reasonable and orderly;
3. Supplier management: connect supply records, supply quality, payment, actual receipt together
4. Customer management: clear order completion, accurate account collection statistics;
5. Vehicle management:Reduce queue jumping; accurate vehicle information;
6. Send and receive materials management: Seamlessly joint from sending material at asphalt plant to receiving material on paving site;
7. Information transmission error: all kinds of information are transmitted by phone, Wechat and SMS with high probability of error, which is difficult to find records afterwards;
8. Clear job responsibilities: personnel positions and responsibilities are accurate and clear.
Function module composition: Sales, Production, Procurement, Vehicle scheduling, Weight house, Experiment, Personnel, Equipment, Finance, Statements.
In terms of support
1. Cloud servers with high availability provided for customers
2. Dedicated technical support and maintenance services
3. Fixed IP-broadband
4. Data security guaranteed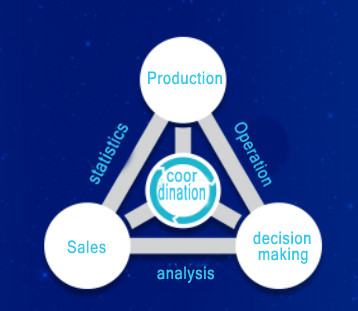 During the epidemic, remote maintenance, remote data system of DGLeap iCloud, and ERP system provided customers with preventive and diagnostic services can improve the reliability of the plant. Help customers with upgrading and transformation from traditional production to intelligent production.