Unlocking the "new form" of DGX
Share
Issue Time

2020/07/17
Summary
Unlocking the "new form" of DGX
At 10:00 am on July 2nd, 2020, the world's first "DGX" from D&G Machinery was officially released. This conference attracted nearly 4,000 people. Therefore, thanks to our friends from all over the country for their attention and support to D&G Machinery.
Unfortunately, some friends have not been able to watch the live broadcast due to time schedule. But never mind, we especially prepare a detailed introduction of the new "DGX" product.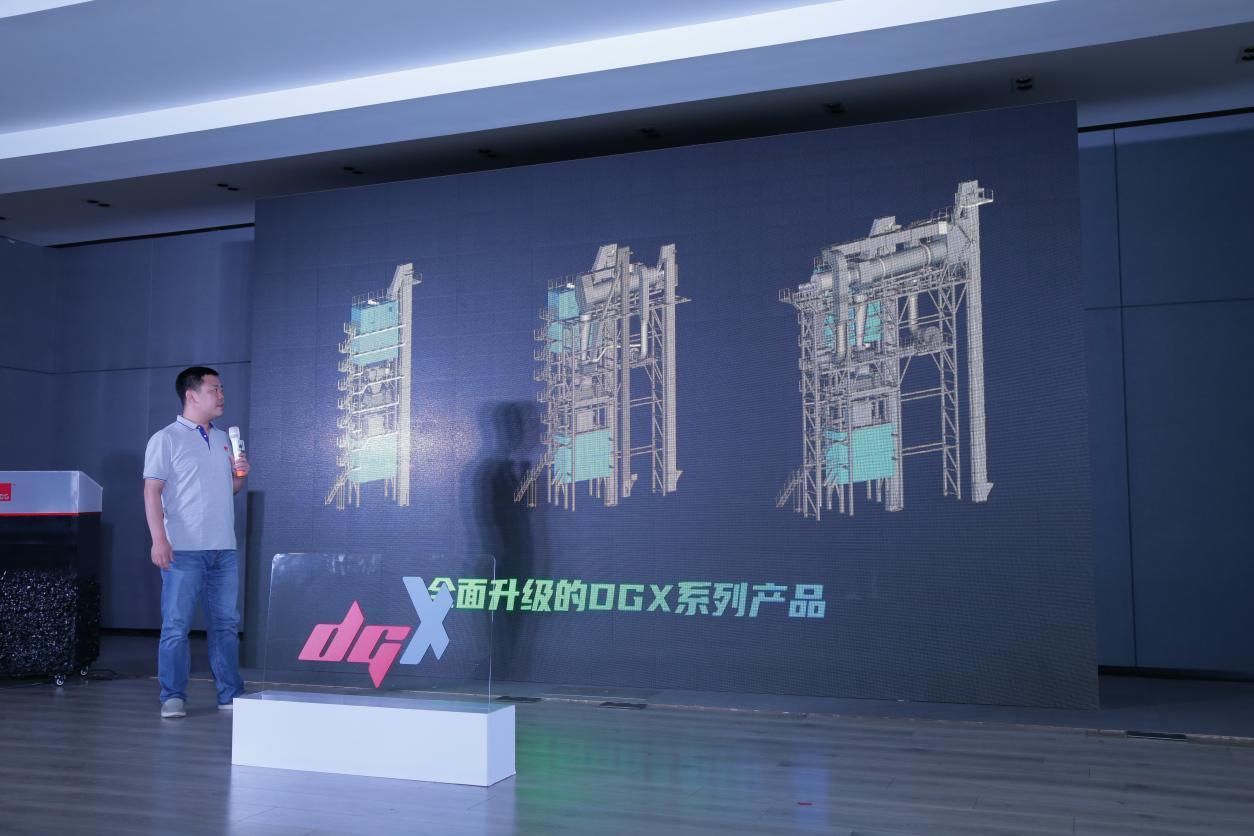 One equipment with multiple types, integration by requirements
DGX adopts the idea of cross model planning and design, and the functional modules are integrated according to different modes to realize the conversion of different equipment styles and functions to meet the different requirements for different production conditions.
「Conventional type」VS「Integral type」
「Conventional type」
The equipment is reassembled into "Integral type" through later upgrading.
「Integral type」
According to the actual production needs, only the necessary functional modules can be reserved and assembled according to the "Conventional style".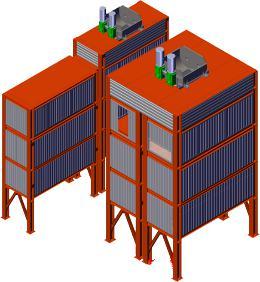 HMA storage bin system under mixer
The installation can be selected according to the engineering and process demands, which will greatly simplify the plant structure and reduce installation /debug time and costs.
"Integrated type" main tower cladding
Integrated designs under different forms, such as cladding of main tower and other environmental protection related configuration, can be selected as required.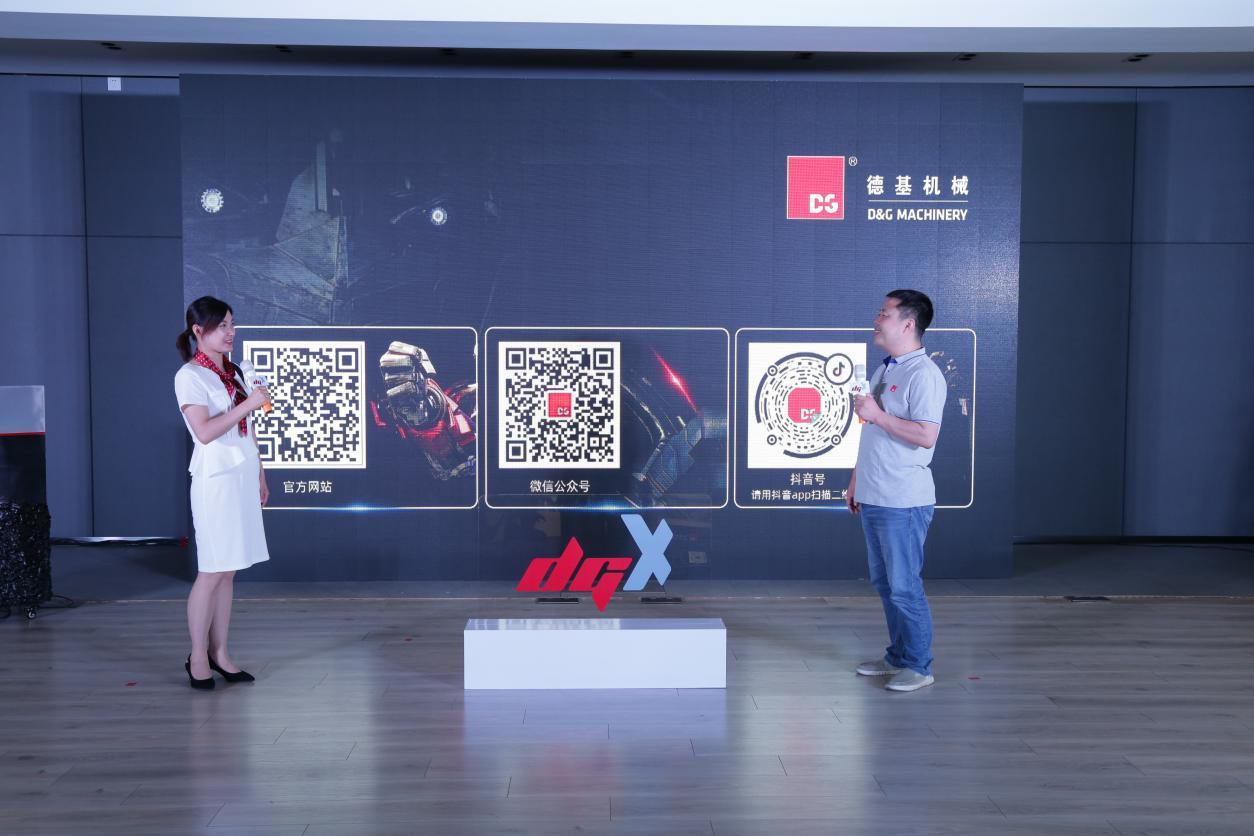 Most of the functional modules can be used among multiple equipments of the same model or adjacent models.
Modular integrated storage bin
Modular storage bin selection method
Modular structure design and many selection methods meet the diversified needs of users for the finished product storage bin system.
Selection methods for storage bin under mixer
Translational skip Swing chute Orthogonal skip Swivel chute
Typical product storage bin combination
Single-span bin equipped with swing chute /translational skip
"一" type double/multiple bins equipped with translational skip
"#" type double/multiple bins equipped with orthogonal skip
Double span bins with double/multiple compartments with orthogonal skip
Storage bins with double/multiple compartments equipped with "#" orthogonal skip
"#" type double bins equipped with swivel chute
Double span bins with 2 compartments equipped with swivel chute
Storage bins with double compartments equipped with "#" swivel chute
Multiple recycling combinations mode
「Separation of recycled aggregate and fine」
Recycling dryer drum equipped with "recycling ring" system
The fine RAP is heated by the drum through the recycling ring
"Combination of cold and hot"
In conjunction with a separate "cold drop" system, the fine RAP is added by the cold drop system, or the cold drop system is used alone with a lower recycling rate.
「Parallel-flow heating」recycling drying system
Mature technology
Conventional matching
Cost-effective
「Counterflow air heating furnace」recycling drying system
Higher ratio
Lower emissions
Safer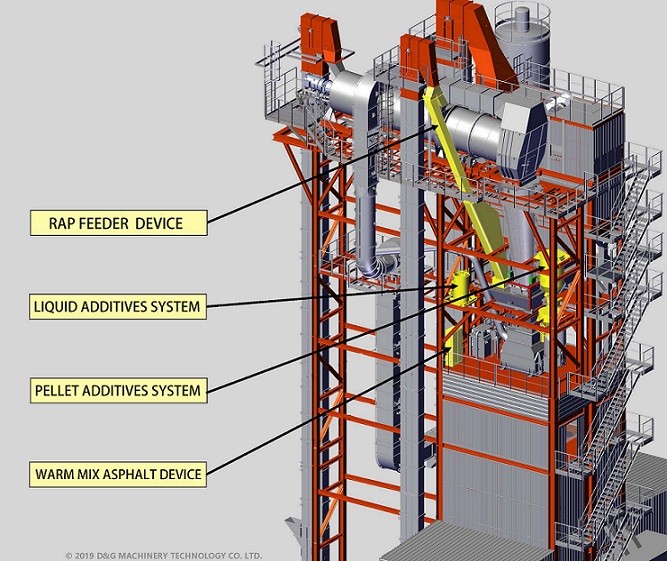 "Diversified " expansion "Multifunctional" production
Recycling cold drop system
Recycling agent metering and feeding device
Warm mix asphalt foaming device
Powder / particle additive metering and feeding device
Liquid additive metering and feeding device
Various types mixture production function
Conventional hot mix asphalt
Recycled asphalt mixture
Warm mix asphalt mixture
Color asphalt mixture
Special asphalt mixture(Such as SMA, etc )
As a member of China's manufacturing industry, D&G Machinery has been making great efforts in the past 20 years, carrying the heavy trust by means of science and technology. Adhering to innovation-driven development and quality priority is the tireless pursuit of D&G people. The changeable DGX is a gift of D&G Machinery for the road construction of the motherland!